A stamping is a wonderful thing. For those of you who don't know what I mean by stamping, it's a component made with a press from a die, that's normally hallow on the back, light weight and relatively easy to bend and manipulate. The stampings I work with are brass, they're full of detail and perfect for jewelry making.
When you look around at the handcrafted jewelry, on Etsy.com for example, you tend to notice a selection of works containing some of the same stampings you might be using. One of my favorites to work with is this fleur de lis stamp, available
here
. This piece is also available in sterling silver and copper plated.
This is the unadorned stamping. I've done some digging and came up with these pieces of work that contain this particular stamping, and I've compiled them all here to give you a look at how creativity and personal style play a role in turning this simple stamping into a work of art.
These first three pieces are my own creations. They're just a few of the necklaces I've made with this stamping, I have used it many more times, it's one of my favorite foundation pieces.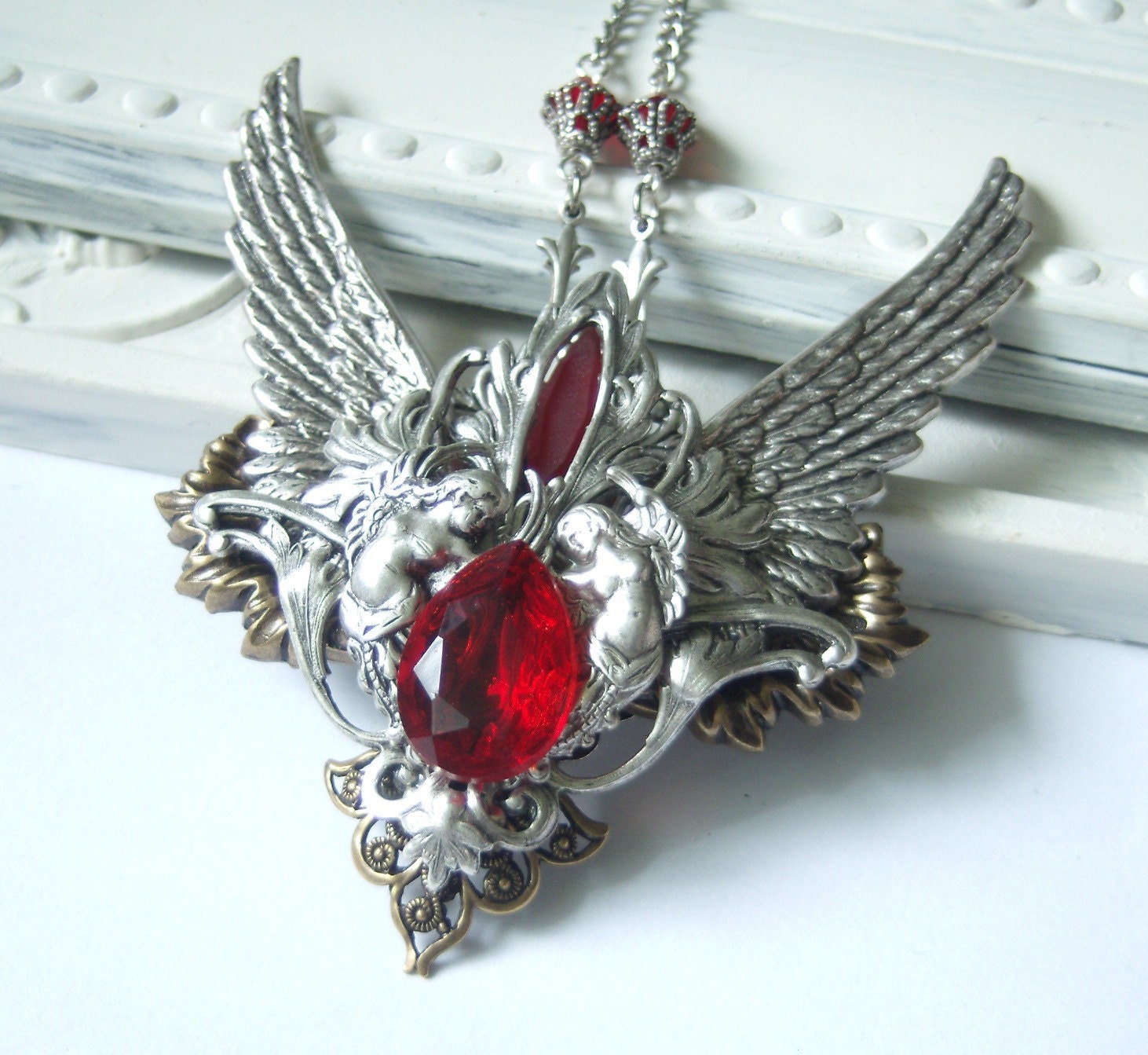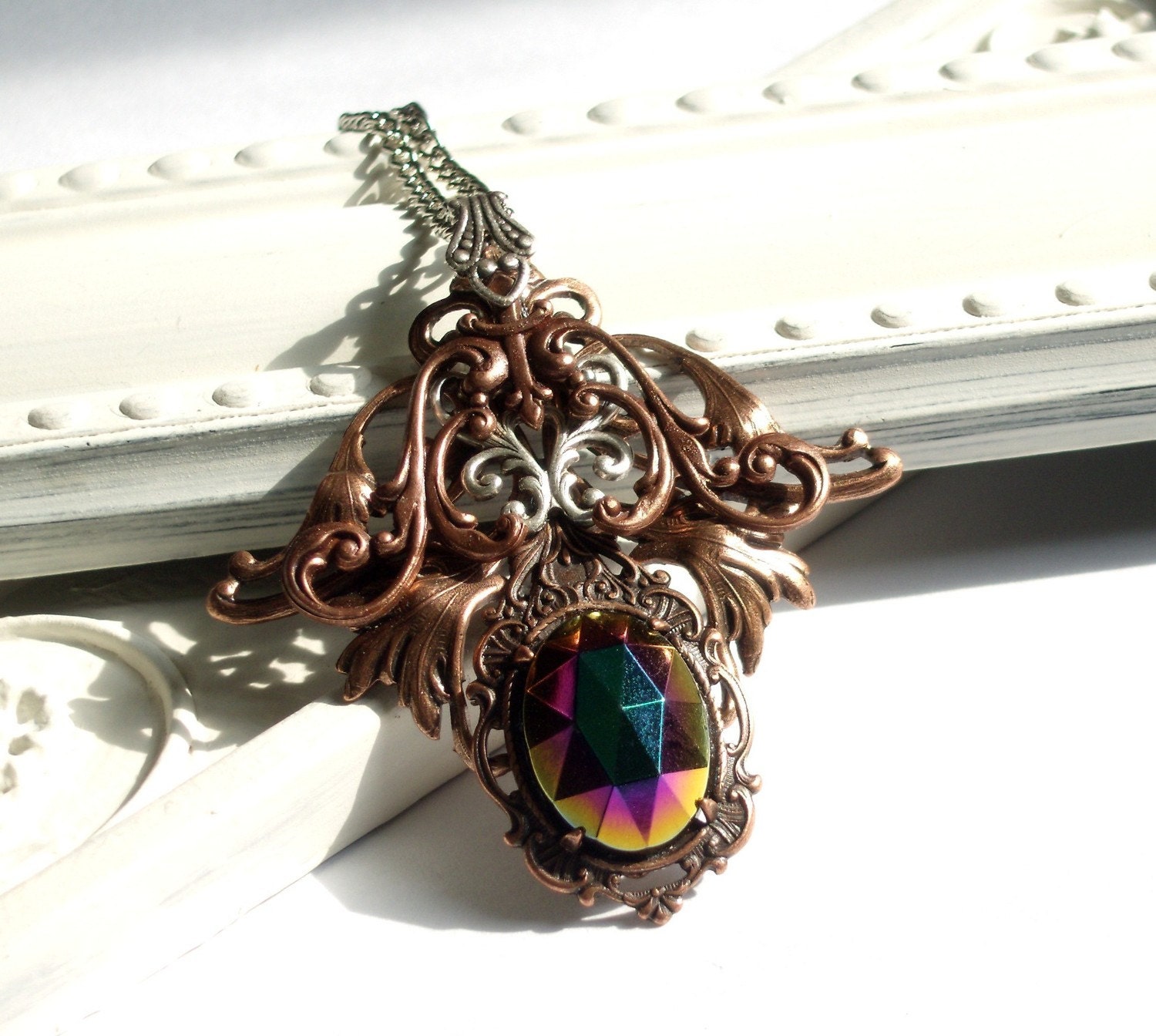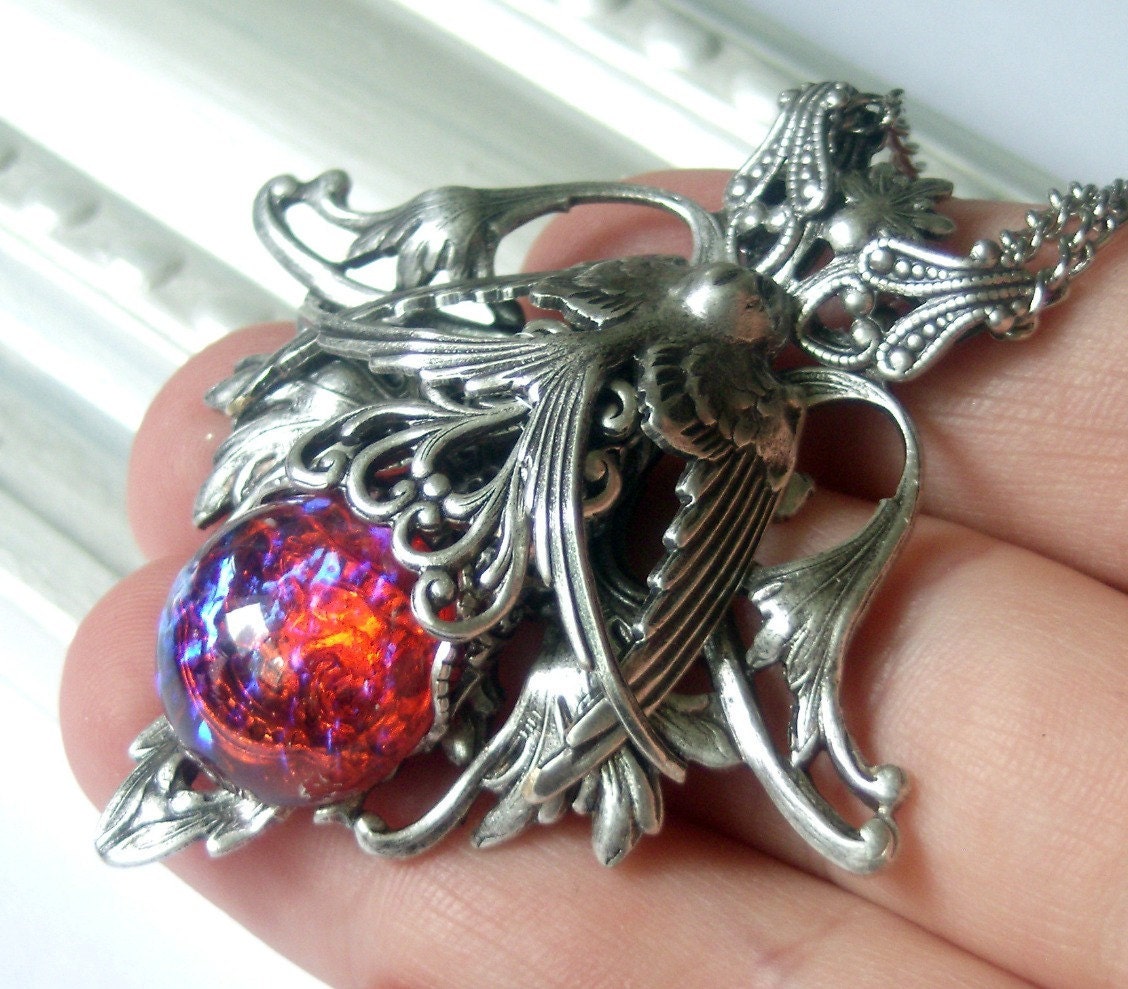 This cuff is the
Valkyrie Battle Cuff by KCRlehrstudio
. The flowing lines of the stamping work really well with the floral details in the many accompanying brass pieces.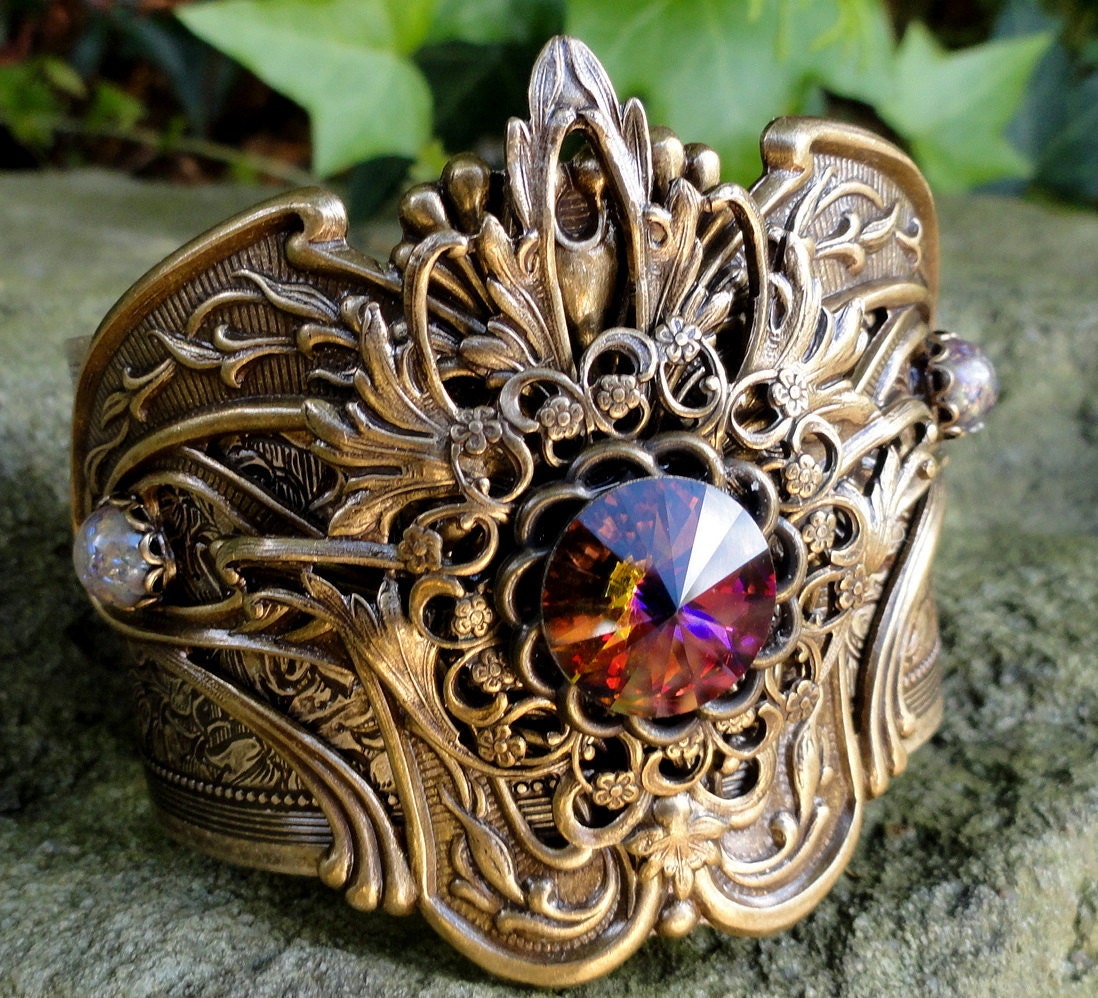 This gothic style neovictorian necklace by cynthiscouture
has a unique shape, with the wings adjoining the stamping perfectly at the bottom. Her work is often adorned with lots of shimmering crystals.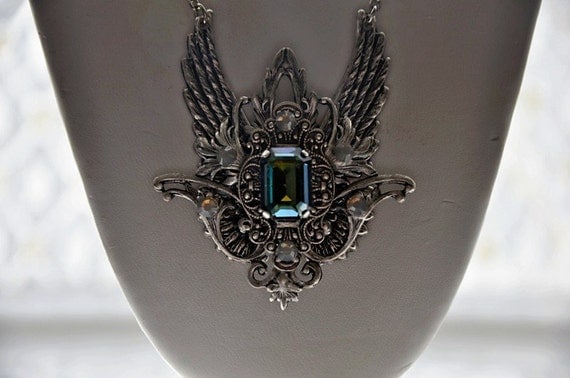 You have to look a little closer to find the stamping in
Mermaid Treasure Figurehead
by fellow Michigan artist and friend HarlequinRomantique. It's in there, buried amongst the serpentine art nouveau dolphins. I love the use of the stamping in this piece, because for me the stamping represents a sort of seaweed, which accompanies the dolphins perfectly.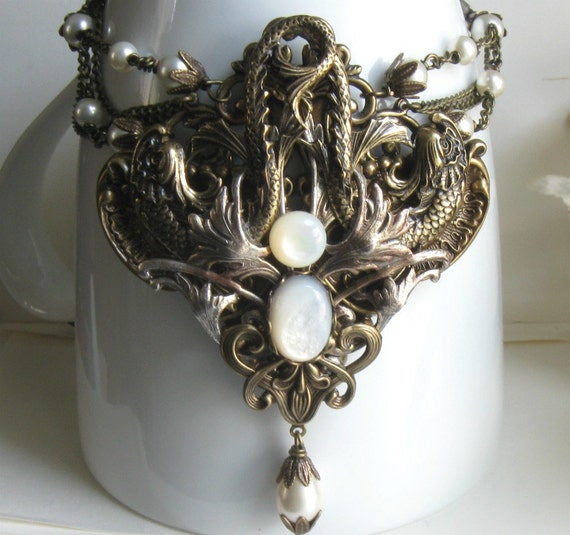 Another friend
shmai3
uses this piece in a very lovely little victorian inspired necklace called Beloved. The stamping serves as the foundation of a sort of flower garden, with accompanying birds and in a very victorian fashion, tied with a bow.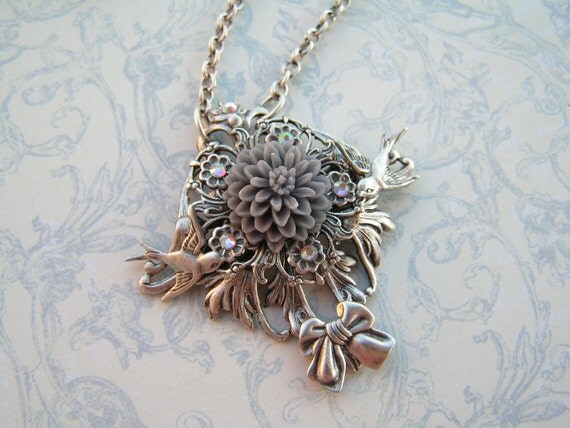 Alkazadesign
uses the brass stamping in beautiful contrast with the deep sapphire gems. Once again the stamping is paired with floral components, but it's the first instance where I've seen the piece beautifully draped with chain.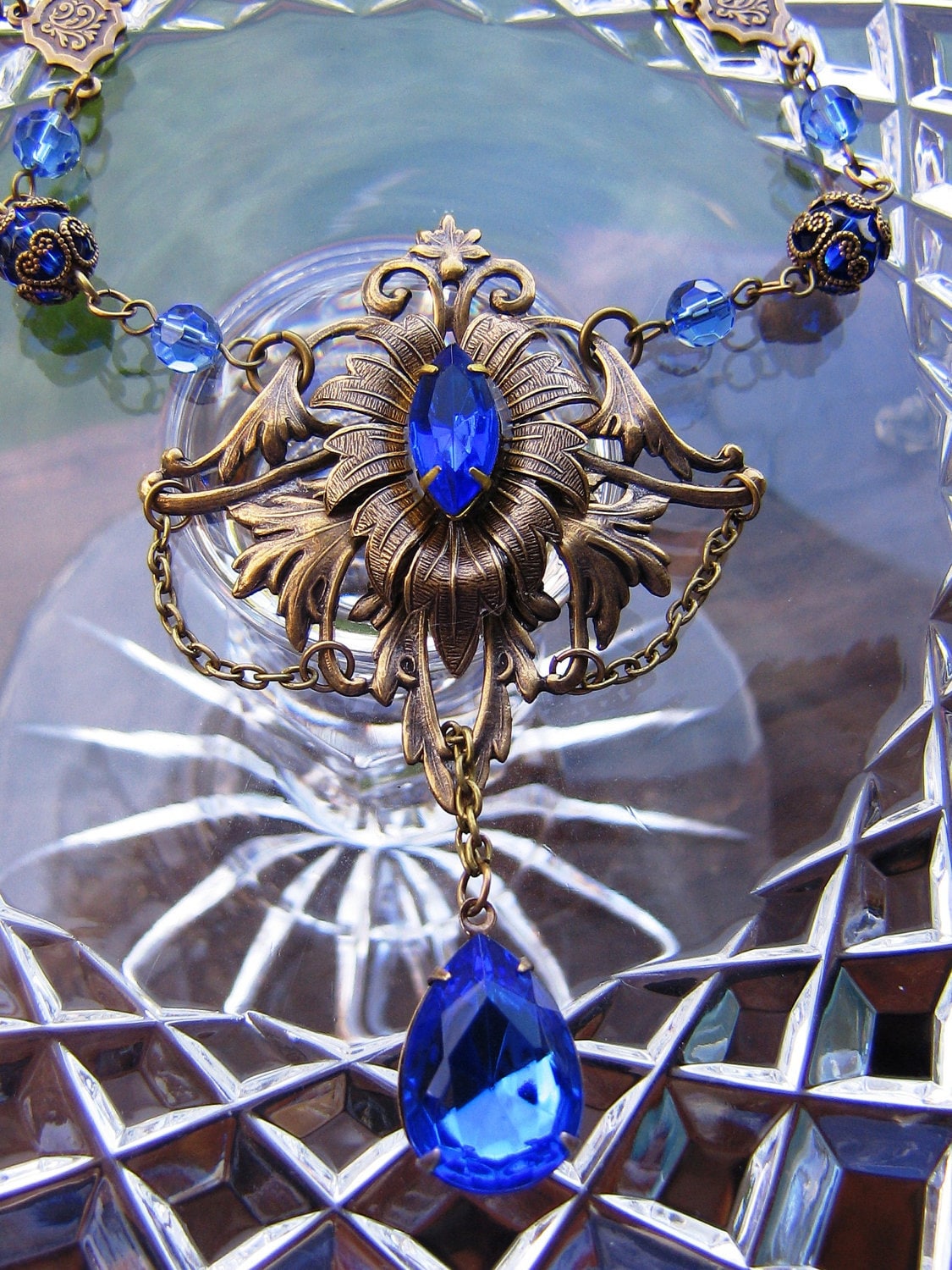 My last example for today is a steampunk approach by
ValkyrieCouture
. Paired with gears and a clock hand, and once again accompanied by a flower. It's barely visible, but it's an integral piece to this pendant.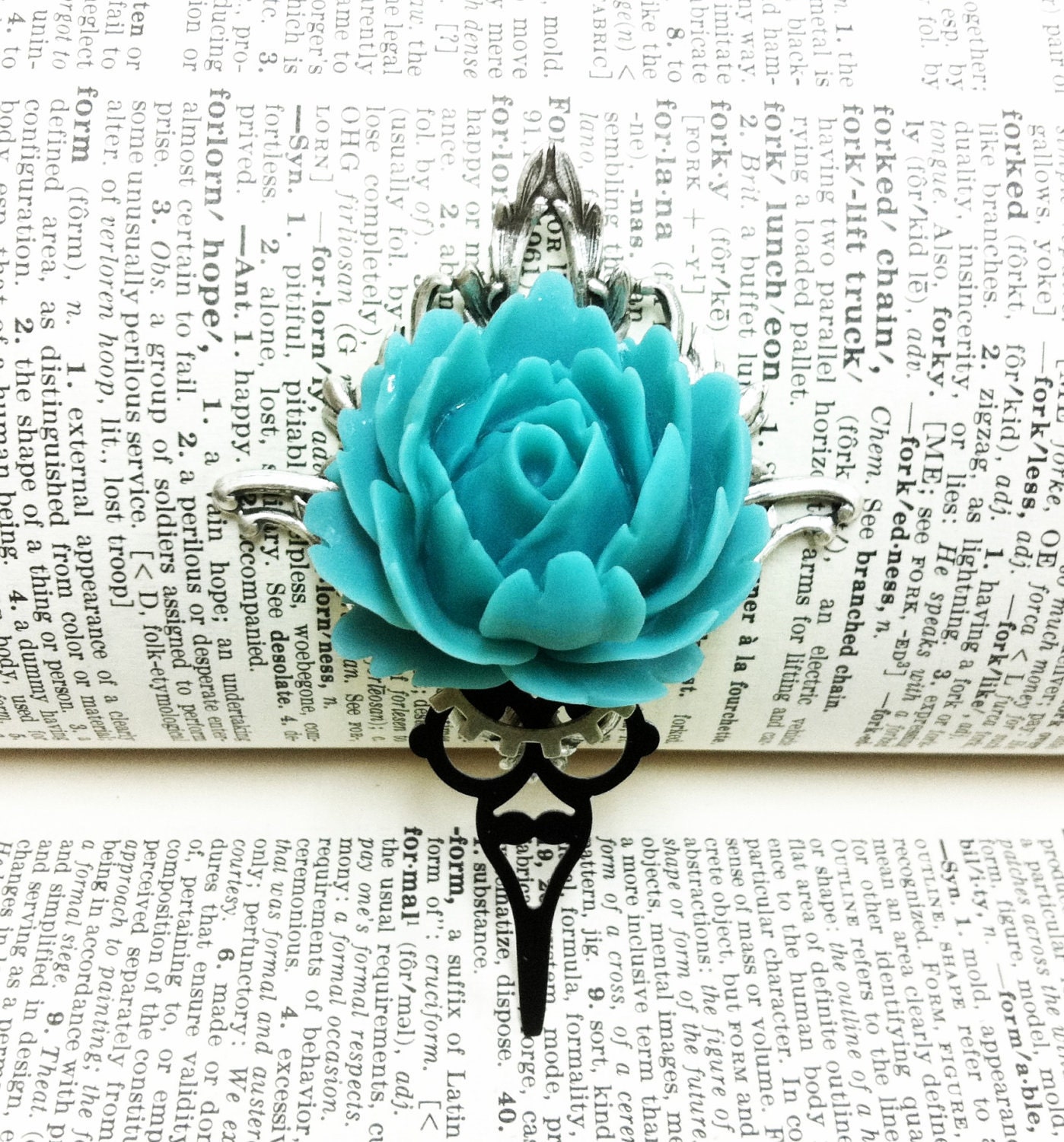 So there's a small look into the many many uses of a single stamping in jewelry crafting. There are several stampings that I use, that are frequently used in other artist's designs, that may end up in another post, another day. =)